Used Photo Booth for Sale. If you are wanting to earn some extra money, or start your own Photo Booth Rental business, this is a great starter photo booth. Make $500-1000 per week. Placing Booth in good location your ROI within 6 months. Apple Industries has combined the timeless excitement, anticipation and intimacy of the classic photo booth with a new generation of digital technology! The Face Place Photo2Go Event Photo Booth comes in a specially constructed lightweight aluminum cabinet designed for the event and party planning industry! Skip the time-consuming set up thanks to a built-in 3 wheel hand truck and sleek, modern design. Simply tip back and roll it away. It can also be transported on its back. Fits through any standard doorway. Save money and maximize fun with this sophisticated, compact and durable party accessory. Each photo booth features 4 popular software packages: basic film strips in color or black and white, a program with various colorful and unique borders and backgrounds, and a program featuring assorted hairstyles - a guaranteed crowd pleaser! Other fun, fresh and entertaining features include time released holiday backgrounds, strip photos printed vertically, as well as the ability to customize borders and backgrounds! Even add customized logos to each photo strip for fun and effective advertising or personalization. A top industry pick for special events, the Face Place Photo2Go vends double sets of prints from the best and most reliable Mitsubishi printer. And, it always stays fresh with upgradeable software. With 600 vends to a roll of film, the Face Place Photo2Go Event Photo Booth is the key to easy, affordable and unbeatable party and event entertainment.
· Photo Booth Dimensions: 30'' W x 39'' L x 74'' L in Closed Position / 30'' W x 61'' L x 74'' H in Open Position / Weight: 320 lbs.
· Features Built-In 3 Wheel Hand Truck / Easily Laid Down For Transportation / Can Be Transported by 1 Person
· Made from Lightweight Aluminum, Compact for Moving / No Set Up Required. Nothing to Screw or Bolt Together
· Photos and Prints: Takes 4 Poses but gives you back 8 Pictures- the Original 4 Plus a Duplicate Set
· Offers 4 Popular Software Packages: Black & White Strip Photos; Color Strip Photos; Fun Backgrounds and Borders; Hair Styles - Just Add Your Face
· Also Offers: Time Released Holiday Backgrounds; Strip Photos Printed Vertically; Customizable Borders and Backgrounds; Ability to Add Customized Logos on Each Photo Strip
· Best and Most Reliable Mitsubishi Printer- Uses No Ink! / 600 Vends To a Roll of Film
· Flat Panel Monitor Shows Chosen Borders in Real Time / Ability to Capture Photos on a Flash Drive
· Incredibly Low Cost of Film Per Person: One roll of media MUST be purchased / Media Can be purchased by the case or individual roll; Each Roll Provides Enough Film for 600 vends, each vend consisting of a double set of prints
General Features
· Touch Screen Navigation
· Mitsubishi Dye-Sub Printing System
· Caster Wheels
· Dolly System
· Records Audio & Video
· Customize Borders & Backgrounds
· Captures Photos on Flash Drive
· Customer Logos on Product
· Dollar Bill Accepter and Stacker
· Credit/Debit Card Reader
· Film Capacity: 600 Vends per Roll
Remote Control Auditing System
· Audit Reports Remote Monitoring
Theme Packages
· 4×6 Photos
· Black & White Photo Strips
· Color Photo Strips
· Face Replacements
· Fun Borders
· Hair Styles
· Holiday Borders
· Passport Style Photos
Social Media Integration
· Email Capable
· Facebook
· Twitter
· Instagram
Links to videos about photo booth: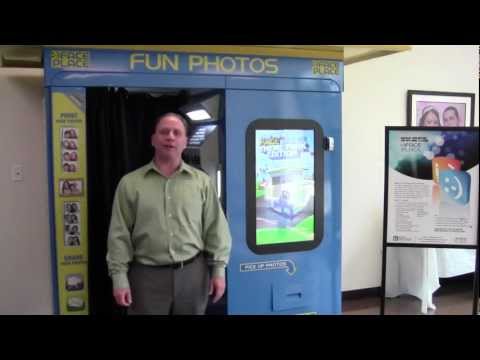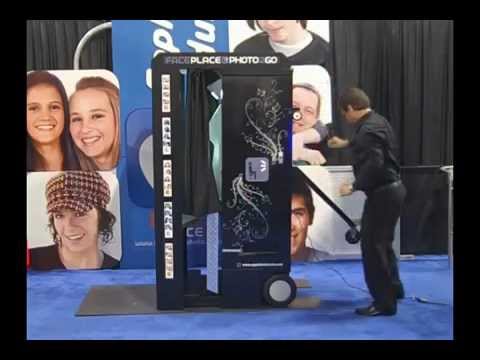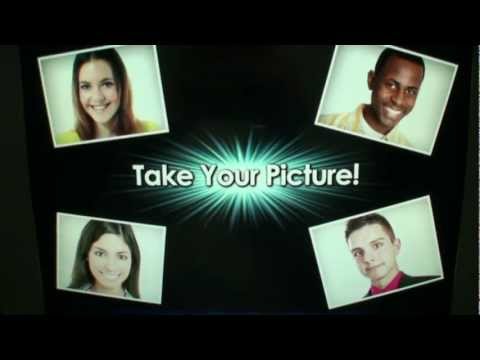 Photo Booth Operational Manual Link:

http://www.bmigaming.com/Games/Manuals/apple-industries/face-place-photo-2-go-portable-digital-photobooth-operators-manual-apple-industries.pdf
Photo Booth is located in Houston, TX. Free Delivery in Houston area.
You can use Uship.com for shipping if not in Houston area.
Contact me for pictures and more details.